Wellington - Miss May
Welcome to Wellington's class page!
In our class we have Year 1 and 2. Our learning journey is as exciting and memorable as possible, following the Key Stage One Curriculum. Each day, we do Phonics (following Read, Write Inc), Mathematics and English, and two afternoon subjects. We really look forward to having Chesterfield Football Club teach us once a week too! We have such a fun, busy school day and put the children at the heart of our learning. Each half term, our work is formed around an exciting new topic. See details of these outlined below:
Autumn A- Superheroes
In Autumn Term 1, we learnt about fictional and non-fiction heroes. We particularly enjoyed reading the books Supertato and Superworm in Talk for Writing. We made some fantastic stories based on these. Additionally, we studied fictional characters, investigated and tested different materials which eventually resulted in the children making their own superhero characters. They designed, made and decorated their own costumes, which looked amazing!
We also studied every day heroes, including doctors, nurses, police, teachers, supermarket workers, lorry drivers, builders, parents and families. It was so exciting to hear who the children's real life superheroes were! In history, we learnt about the Crimean War and all about Mary Seacole and Florence Nightingale. We were so lucky, we even managed to go on a school trip on this topic. We visited the Emergency Services Museum in Sheffield and learnt all about so many real life heroes throughout history.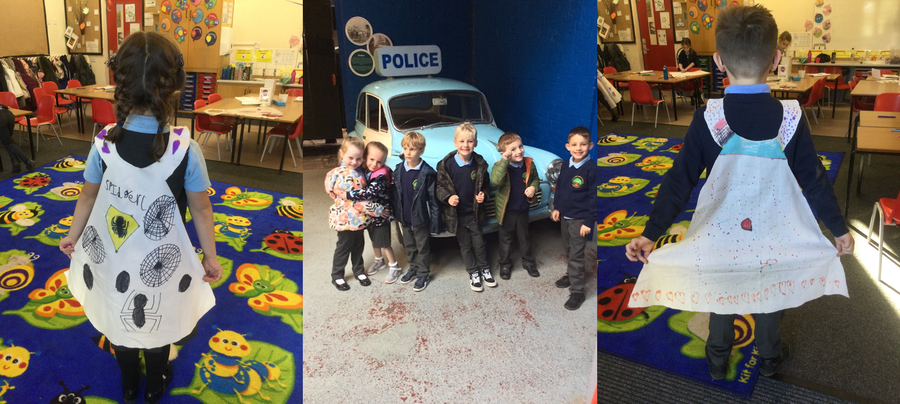 Autumn B- Memory Box
KS1's Autumn 2 topic was a history based project called Memory Box. The children learnt about changes over time, family and community. This project developed the children's knowledge and appreciation of local history, special memories, customs and traditions, and growing up. The children particularly enjoyed sharing their own memories, baby photos and learning about life cycles.
In science the children learnt about how they grow and change, understanding the similarities and differences between themselves and others. The children learned to name the main parts of the body and investigate the five senses. They particularly enjoyed taste testing their own sandwiches!
In English, the children have enjoyed studying traditional tales in line with Memory Box, including 'Goldilocks and the Three Bears', 'Owl Babies' and 'Can I Build Another Me?'
In Design Technology, after studying toys from the past, the children made their own sock puppets. They designed these carefully and made fantastic role play using them.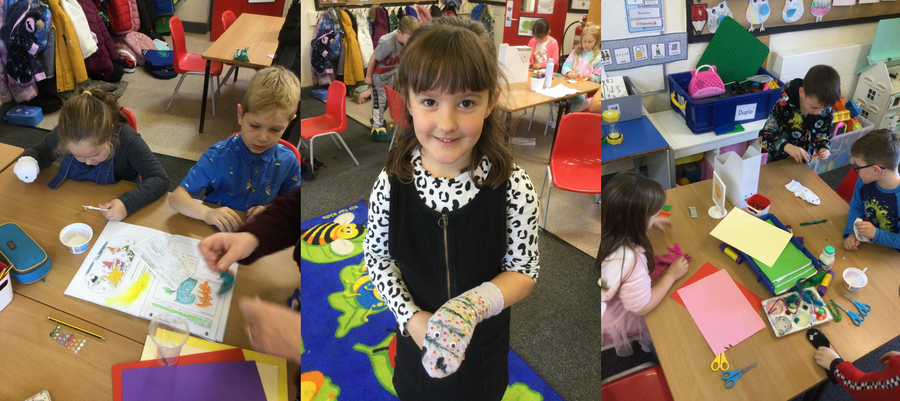 Spring A- Beat, Band, Boogie.
In Spring 1 we investigated music, sounds and how we hear. There was so much exploring to do...
Here comes the marching band. Left, right, left, right. Step in time to the beat: 1, 2, 3, 4; let's make sounds, high and low. That sound is loud. That one's quiet. What can you hear? There are sounds all around. What's making each one? Is it a high or low sound?
In English, we studied some poetry including 'The Ning, Nang, Nong' and some songs. We also worked on the books 'Sshhh!' By Sally Grindley, 'The Pied Piper' and many more!
In Science, did lots of sound experiments and even went for sound walks. We also made our own musical instruments in DT, and learnt all about Picasso in Art. In PE, we will be explored music through the medium of dance. To have a look further into our key areas of learning of last half term, please see our knowledge organiser for Beat, Band Boogie which shows the key knowledge the children will have learnt below.

Spring B - Bright Lights, Big City
During Spring 2, we have learnt all about the United Kingdom and the capital cities, including London. Through this Geography based topic, we explored human and physical features in the United Kingdom, learnt about the weather, seasons and city life.
Excitingly, we also studied the Great Fire of London and all about the history of the Monarch. Some of the books we learnt about are 'This is London', 'The Queen's Knickers', 'The Story of the London Underground' and 'The Queen's Hat'. This combination of fiction and non-fiction was so exciting for us. We even wrote a non-chronological report on London, and rewrote our own versions of 'The Queen's Knickers'.
In Art, we made model cityscapes, and studied Steven Wiltshire to create our own landscape art. The children's cityscapes of London were fantastic!
This was an amazing topic for us to understand cities and the structure of the United Kingdom. Please see our knowledge organiser for Bright Lights, Big City which shows the key knowledge we wish for the children to take out of each topic on the link below.

Summer A - Beachcombers
Let's get into the summer spirit and learn all about the beach, because who doesn't love to be beside the seaside?
In this topic, we are going to be learning all about the coast, the history of the seaside and holidays and even make our own Punch and Judy puppets! By the end of the half term, we should be able to identify some of the UK beaches on a map using our previous knowledge and mapwork. In science we will be looking at habitats and all of the beach wildlife. The children will also learn about things that are living, dead or never have been alive. We are so lucky, as in Art we will be studying Andy Golsworthy and Claude Monet, and making our very own beach art based on these artists.
In Summer Term, the children will hopefully be able to participate in their very own trip to the seaside and study all of the features they have learnt! Please see our knowledge organiser for Beachcombers which shows the key knowledge we wish for the children to take out of each topic on the link below.
Summer B - Wriggle and Crawl
Grab your coat and pooter – we're going out and about on a minibeast hunt and learning all about insects and living things in Summer 2! On your belly, legs at the ready, it's time to wriggle and crawl.
In this topic, we will be looking at animals, food chains, materials, and even designing and making our own bug hotel! We will look at mini projects on how to look after and save insects and creepy crawlies. The artist study we will do this half term is based on Yayoi Kusama, and we will create some amazing insect art using her unique style.
We will be also excitingly be doing a local study this half term on Bolsover Castle, and hope to visit this during this half term. This should revisit some of our previous learning during Bright Lights, Big City when we learnt all about the monarch. Please see our knowledge organiser for Beachcombers which shows the key knowledge we wish for the children to take out of each topic on the link below.
Useful Documents and links
(please always check the website before a child uses it)
Throughout KS1 children will be exposed to a wide variety of fiction/non-fiction books, poems and rhymes. Have a look at some of the books/stories and poems we listen to and learn all about on our Core Book List.
By the end of Year 2, the children will need to know all of the Year 1 and 2 Statutory Spellings. You can support them with spelling and phonics using the following websites:
Other useful websites that could be useful to learn at home with your child could include:
While every attempt has been made to ensure the suggested websites are child-friendly and safe, please tell a member of staff if you have any e-safety concerns regarding these suggestions.