Physical Education
The subject leader for PE at Woodthorpe Primary School is Miss Squiers.
At Woodthorpe C of E Primary school, Physical Education is taught as a learning journey in each of the six key areas. By progressively building their sports specific skills and knowledge, children are able to participate and compete in a range of increasingly challenging sports and activities, both individually and as a team. Through learning the sporting values, children become resilient, respectful competitors and by developing their self-evaluation skills they become hardworking, self-motivated athletes.

We are very excited to inform you that we have become part of SHAPE; (Sport, Health Activity and Physical Education) SHAPE aims to work with its member schools to improve the lives of all young people in the area through their involvement in PE, school sport, physical activity and health-based interventions. Being part of the SHAPE Partnership means that as a school we can access inter-school competitions, take part in the SHAPE reward scheme, enjoy bike ability and work with fantastic PE leaders who specialise in many different sports.
Click here if you would like to find out more about the Shape Partnership/

During the week, we work closely with Chesterfield Community Football Club School Partnership. The partnership come into school to deliver high quality PE and afterschool sessions for all year groups, weekly. The children enjoy the sessions from CCFC and are always up for learning new skills and having a go at the challenges set. The partnership also offer opportunities for the children to learn about health and fitness as well as nutrition along with other curriculum links such as history and learning about Black history month, Class 1 and 2 have also learnt about plastic pollution.
The School Grounds
During the 2019-2020 academic year we had the installation of the MUGA (Multi Use Games Area). The MUGA has been beneficial to all year groups as the children can access it in all weathers and enjoy high quality lessons without the worry of getting very muddy from the field.
This year we are very excited to be purchasing gym fitness equipment to go onto the school field. The children will be able to keep fit and access this equipment during breaks and lunchtime and also in PE lessons. The field is going to be resurfaced so that it is safe and suitable for all year groups, providing a great opportunity for all.
Please see below for an example of the type of equipment we will be looking to buy.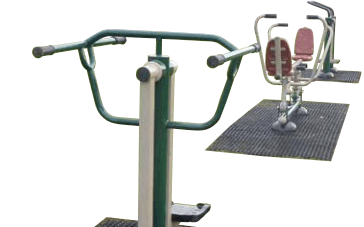 Equipment
At Woodthorpe our children are very fortunate with the equipment we provide for them to use. This academic year the children have been able to choose the PE/games equipment that they would like in their own class bubble box, some bubbles chose balls, skipping ropes and hula hoops as well as balance boards and dancing ribbons. Giving the children independence through choice they will be able to enjoy the equipment they have chosen.
Please see the 2021 table below to inform you when your child has PE. Please ensure they have the correct indoor and outdoor PE kit with sensible footwear.
| | | | | | |
| --- | --- | --- | --- | --- | --- |
| Class | Monday | Tuesday | Wednesday | Thursday | Friday |
| Class 1 - Kingston | ✔ | | ✔ | | |
| Class 2 - Wellington | | ✔ | ✔ | | |
| Class 3 - Beijing | | | ✔ | | ✔ |
| Class 4 - Rome | | | ✔ | ✔ | |
| Class 5 - Nairobi | | | ✔ | | ✔ |
Physical Education Curriculum Intent
PE Programme of Study Overview 2020-2021
Sports Premium Funding 2020-2021
Sports Premium Funding 2021-2022